Gotu Kola Has Amazing Skin and Circulatory Health Benefits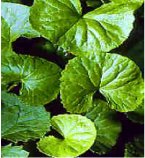 Gota Kola Plant
Gotu kola has been shown to treat a variety of conditions from skin problems to poor circulation. Scientists have been studying the benefits of this herb to perhaps find even more therapeutic uses.
What is it? GK Facts
Native to Madagascar, India and Sri Lanka, gotu kola is a member of the carrot family. The leaves and stems are where the therapeutic benefits lie. Ancient peoples thought that it increased longevity as they observed elephants feeding on the herb. Facts show it has been used for years to treat a variety of conditions.
What are the health benefits of gotu kola?
1) Treating Skin Conditions - Research shows it may help treat rashes and thick skin. It alleviates itching and redness, and as such is very helpful in treating psoriasis.
2) Improving Memory - It improves circulation in the brain, contributing to enhanced mental performance and memory retention.
3) Improving Circulation - It has the ability tohelp circulation in the lower legs as well as strengthen the blood vessels, which may inhibit varicose veins.
It is also helpful in healing wounds, and research shows that it may be pivotal in helping treat leprosy.

Are you better off with gotu kola on its own or mixed with other powerful herbal extracts?
You can purchase an individual supplement, or you can buy a more comprehensive product that includes gotu kola extract along with other herbs, vitamins and minerals. In our opinion, you are better off with the latter for many reasons.
Maximize the gotu kola benefits
Many herbalists and scientists feel that you can achieve better results with a blend of herbs, vitamins and minerals in one formula. Here's why:
A) Many herbs, vitamins, minerals and other nutrients work together synergistically - often a blend of nutrients can work better together than one nutrient on its own. The therapeutic effect is enhanced by the nutrients working together.
For example: GK can work together with other herbs such as aloe vera and olive leaf to help treat skin conditions. Vitamin E works in conjunction with Vitamin C in a similar fashion.
B) You can help several body systems at one time - For example, you can treat a condition with one herb, protect your body with another and make sure the condition does not return with yet another herb.
For example: GK can help improve your circulation, while CoQ10 can protect your heart and guggulipid can lower your cholesterol levels.
C) Herbs can offset the possible side effects of each other - an herb that helps alleviate a problem in one area can help treat a slight side effect that may be caused by another.
For example: GK could cause a mild side effect that is easily treated with ginger extract present in the formula.
Another thing to consider is that many gotu kola products on the market don't even contain gotu kola extract! It's hard to believe but it's true! This is the case with many different single and multi-herb products.
In a recent study, a test of 54 ginseng products found that 25% of them did not even contain ginseng! It's amazing what marketers will do when they don't have to account for the ingredients in their products!
So you can see how important it is to find a high quality product, and how a blend of herbs, vitamins, minerals and other nutrients may be more beneficial to your health than a single herb product, not to mention safer!
Featured Gotu Kola Supplement
We have found an herbal supplement with pure gotu kola that meets all of the strictest requirements:
1. It is formulated under strict GMP compliance, meaning it contains the purest ingredients.
2. It is developed by a highly-trained, well-credentialed qualified scientific team ensuring the efficacy of the product.
3. It contains a synergistic blend of standardized herbal extracts, along with essential vitamins, minerals and nutrients to promote overall wellness.
The product is called
Total Balance
and it contains a synergistic balance of gotu kola and other therapeutic herbs as well as essential nutrients for general health and well-being.
Many of our visitors have experienced success with Total Balance. They have used Total Balance for its gotu kola benefits as well as its many other therapeutic ingredients. 

As with all health supplements, results vary from person to person so be sure to consult your physician or qualified herbal professional before taking any gotu kola or herbal supplements.

The facts point to its many therapeutic benefits. It can be more beneficial to your health when combined with other herbs, vitamins, minerals and nutrients. Find out more info by reading the helpful information above, and learn how it may improve your health today.
---
more on our medicinal herbs page